Earlysville Then and Now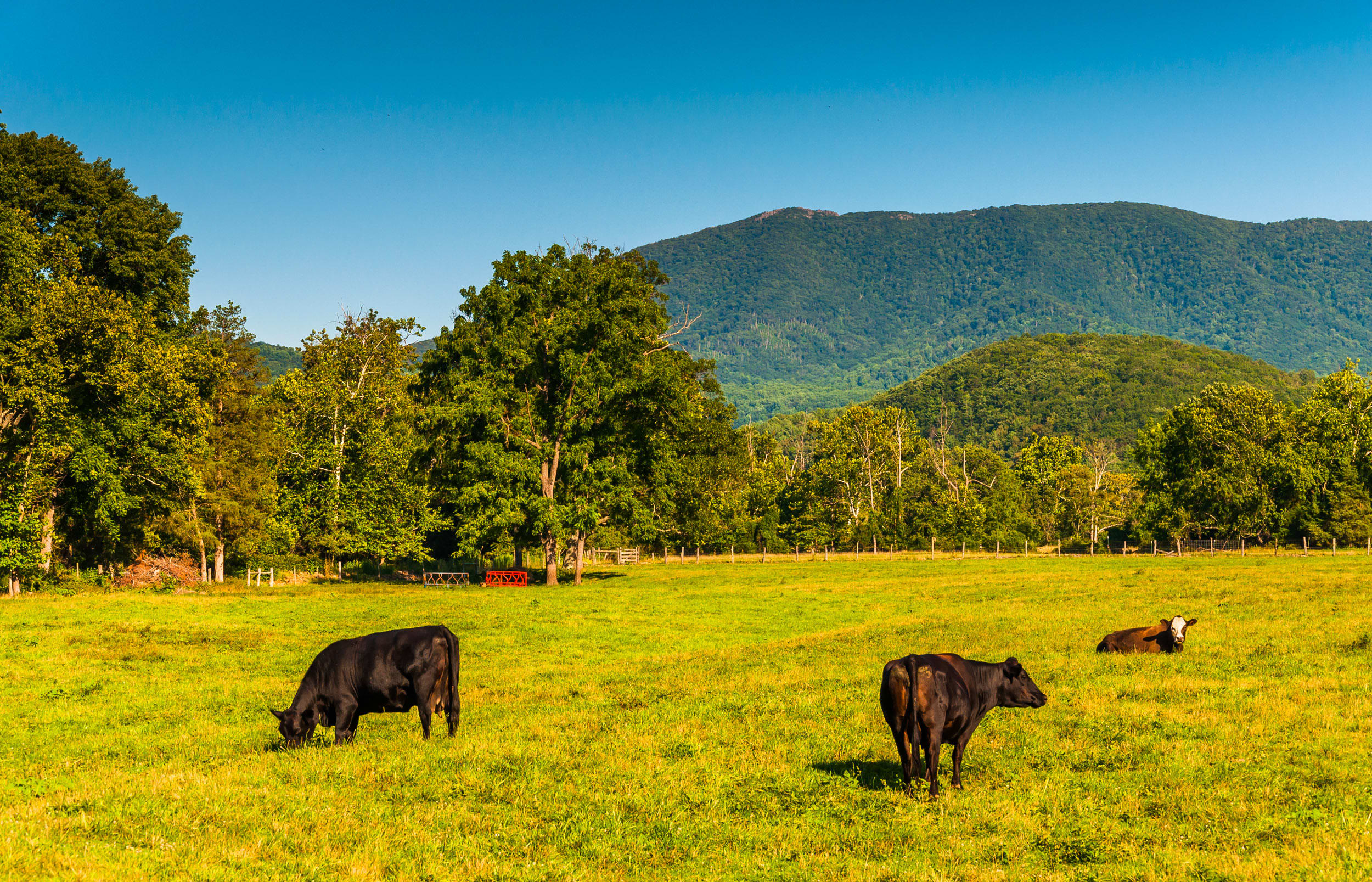 Earlysville VA is a rural community located just northwest of Charlottesville, close to the Charlottesville Regional Airport (CHO). It features pretty rural neighborhoods and lovely farms and estates. Also, schools are located in the village or close by. Good shopping and popular restaurants are all within 15 minutes of Earlysville-proper.
Many of the area's major employers are located within a 10 – 30 minutes drive of Earlysville, including the University of Virginia, Downtown businesses, the National Ground Intelligence Center (NGIC), and companies based at the University of Virginia Research Park.
Earlysville offers subdivided, neighborhood environments, with lot sizes ranging from 1-5 acres on streets which end in cul-de-sacs. There are also more rural neighborhoods. While these areas are not contained; they are, instead, individual 2+ acre homesites. They border state roads or are located at the end of long driveways. Above all, it's a very interesting, very beautiful area, with pastoral, wooded, or mountain views at every turn.
This is a neighborhood community, where people know and care about one another. There is a certain peace and quiet, and an expectation of privacy. This is because it comes with living in a rural environment, no matter how convenient it may be to shopping, school, and employment.
Public Schools for Earlysville VA are: Broadus Wood Elementary, Jouett Middle School, and Albemarle High School.
Those of us who have chosen Earlysville VA as our home know that we enjoy the best of all worlds because we live in a wonderful and special place.
Location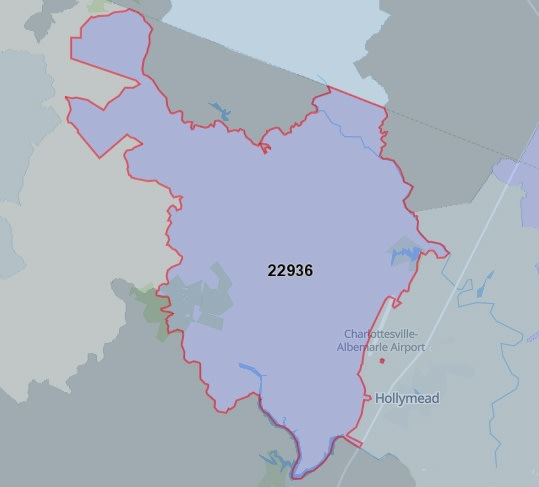 Earlysville-proper (the post office area) is located approximately 10.5 miles from the the Downtown Mall in the City of Charlottesville. There are approximately 2400 homes located within the Earlysville-22936 area.
Please visit here to learn about: Employers in the Earlysville VA Area
Local Shops and Businesses in Earlysville VA
We are truly fortunate to have the following businesses in our community. They are all along Earlysville Road.
Earlysville Animal Hospital – a perfect place of care for all types of pets with a long standing, great reputation.
Earlysville Auto Center – offering tires, great auto service, and repairs. Also, a definite plus to our community!
Earlysville Exchange – our local Thrift Store and More! Great place for meeting friends for a cup of coffee.
Earlysville Farmers Market – a Year Round Farmers' Market located at Buck Mountain.
Mud Dauber Pottery Studio – owned and operated by Suzanne Crane, Local Artist. Please read our blog post for more details about this wonderful place to visit: Mud Dauber Pottery Studio and Gallery .


Shopping, entertainment, and dining venues are plentiful
Hollymead Town Center – 3.5 miles – with among others Target, Harris Teeter, Panera Bread, Kohls, CVS, Walgreens and more. A variety of restaurants include Chinese, Japanese, Mexican, and Pizza. Also, there is a small strip center with Michael's Diner and a coffee shop-ice cream parlor. In addition, there is the seasonal Albemarle Farmers' Market.
The Forest Lakes commercial area has a Food Lion, various fast food choices, Timberwood Grill and Riverside North dining. In addition, there is the seasonal Forest Lakes Farmers' Market.
The Shops at Stonefield – 7.5 miles – plentiful fine-and-casual dining venues, Traders Joe's, Regal Theater with IMAX, and shops running the gamut from L L Bean and Orvis to Williams Sonoma and Pier One, and everything in between. Also, Costco.
Rio Hill Shopping Center and area – 6.5 miles – Lowe's, Kroger, T.J. Maxx, dining including Brick Oven (local) and Chick-fil-a, Banking, Pet Food Discounters, and the SPCA.
Whole Foods – 7.8 miles
Barracks Road Shopping Center – 8.4 miles – the area's higher-end shopping, includes locally-owned boutique shops and gourmet-to-go, along with some of the national restaurant chains, Kroger and Harris Teeter grocery stores, an Old Navy, Michael's, Barnes & Noble's, and more (15-20 minutes)
A beautiful new Public Library, the NORTHSIDE LIBRARY (Jefferson-Madison Regional Library) – 7 miles
….and so much more within 15 minutes of this quiet, lovely rural community
HISTORY OF EARLYSVILLE VA
THE EARLYSVILLE VA VOLUNTEER FIRE HOUSE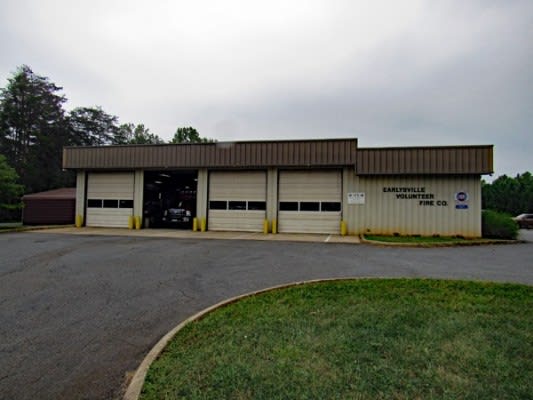 Our Earlysville Volunteer Fire Company – this piece was written by Earlysville resident and committed Fire Company volunteer, Lois Dean. I'm not certain of the date, but I would guess it was around the year 2000.
"Before the early 1960s, the community of Earlysville was mostly rural farmland. In the beginning there was a small grocery store with gas pumps. The post office was located in the corner of a home next to the grocery store. Also, there were no subdivisions in the area. Then, Earlysville, similar to most communities, started growing with many new homes being built. READ THE INTERESTING HISTORY OF The Earlysville Volunteer Fire Company.
MICHIE TAVERN
Michie Tavern was originally located in Earlysville. – References for the following history come from newspaper articles, primarily the Daily Progress, beginning July 1954 through October 1974. Also, I have gained all of my information from the archives located at the Albemarle Charlottesville Historical Society.
Most Earlysville residents learn this about the 17th century Michie Tavern. This is because it was originally constructed along Buck Mountain Road between Free Union and Earlysville. It now stands nearby Jefferson's Monticello. Also, there is a marker along the Buck Mountain Road that approximates the original location of the tavern. A BRIEF HISTORY OF MICHIE TAVERN AS IT RELATES TO EARLYSVILLE VA.
Current Homes and Land for Sale in Earlysville
Courtesy of: MCLEAN FAULCONER INC., REALTOR
Courtesy of: SENTRY RESIDENTIAL, LLC
Courtesy of: MONTAGUE, MILLER & CO. - WESTFIELD
Courtesy of: MONTAGUE, MILLER & CO. - WESTFIELD
Courtesy of: LORING WOODRIFF REAL ESTATE ASSOCIATES
Courtesy of: Long & Foster Real Estate, Inc.
Courtesy of: AVENUE REALTY, LLC
Courtesy of: LONG & FOSTER - OLD IVY
Courtesy of: KELLER WILLIAMS ALLIANCE - CHARLOTTESVILLE
Courtesy of: NEST REALTY GROUP
Please remove some of the selected filters.